AllHost ⚡ LET EXCLUSIVE Lifetime Discount - cPanel, LiteSpeed, MailChannels, DDoS Protected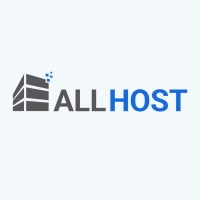 AllHost_Ben
Member, Host Rep
Who Are AllHost?
We're a small UK based cPanel service provider with a team of over 15 combined years of experience in supporting web hosting solutions from small single website servers to full scale load balanced + failover solutions. We have been privately hosting since 2015 and publicly hosting since 2020 and are a ICO-registered company.
What's Standard?
Hosted on enterprise grade hardware in a Telehouse London (UK) Datacentre served by a multi-homed network with over 2Tbps of outbound capacity.
**cPanel ** Control Panel.
⚡ Hosted on Xeon Silver CPUs in all-SSD servers (including the backup space!).
⚡ JetBackup - Daily Backups with 21 Restore Points. Upgradeable to backup every 2-4 hours.
⚡ CloudLinux OS
⚡ LiteSpeed Enterprise Web Server + LSCache
⚡ MailChannels Outbound Mail Relaying to avoid Spam/Junk folders!
⚡ Enterprise DDoS Protection
What's the deal?
Quite likely our last ever LET offer of 20% recurring discount across all offerings on our site.
This includes potential upgrades in future, i.e. if you sign up to CP Lite with the 20% discount then you will also receive 20% discount on an upgrade to CP Basic. The same applies to Reseller + Managed VPS.
Coupon Code: LET20APR
CP Lite (Shared Hosting)
Up to 1 Domain
10GB SSD Storage
1 vCPU + 1GB RAM LVE Limits
£2.36/month or £23.00/year
Link
CP Basic (Shared Hosting)
Up to 3 Domains
25GB SSD Storage
2GB vCPU + 2GB RAM LVE Limits
£3.96/month or £39.60/year
Link
CP Plus (Shared Hosting)
Up to 5 Domains
100GB SSD Storage
3 vCPU + 3GB RAM LVE Limits
£7.96/month or £79.60/year
Link
We also offer Reseller Hosting and Managed cPanel VPS
You can find the plans listed above here
Email: [email protected]