WHMCS Alternative (FREE Clientexec License) + EXCITING NEWS & GIVEAWAY!!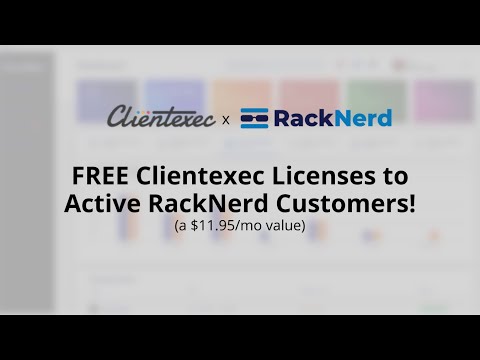 RackNerd is pleased to announce that we have formed a partnership with Clientexec, allowing us to offer our customers Clientexec licenses for use within RackNerd's network

With the recent pricing changes by WHMCS announced earlier this year, a lot of resellers and hosting providers have been seeking alternatives. Clientexec is a strong contender which has received continuous development since 2003. This means users can rely on this platform's stability, since the code base has been improved through many revisions; additionally this means that enhancements and features are consistently added, keeping up with the needs of both the industry, and business owners!
We've had the opportunity to collaborate closely with the Clientexec team in the past months and must say, their team's commitment is commendable — truly a great group of people who are interested in innovating and improving their software. They have been willing to accept suggestions/feedback, and implement them within their software. The amount of new features released in 6.4 is impressive, and what's planned to be released in 7.0 is even more impressive. An awesome WHMCS alternative, and best of all, no client number limit.
FREE Clientexec license for LET Members
A $11.95/Month value (unlimited clients license), available to RackNerd customers at no charge!
We wanted to give the LET community first dibs on this, just in time for Clientexec's 6.4 stable release today! An announcement will be coming soon to our customers.
Claim Your Free Clientexec License Here on LET:
Comment your RackNerd order number or invoice number below
Other Notes:
Limit 1 per active client account. Your Clientexec license will remain free/active for as long as your RackNerd hosting-related service is active.

Clientexec licenses issued by RackNerd are intended for use within the RackNerd network only ("internal licensing").
Here are a few cool features released today in the Clientexec 6.4 stable release:
Completely redesigned client area interface (admin area interface revamp coming in v7.0) - see below screenshots:

3x new simpler/cleaner ordering forms

Complete revamp and major improvements to the WHMCS migrator! Easily migrate from WHMCS over to Clientexec.
If you've been on the fence about what billing platform to move to, or what the next best WHMCS alternative is, we feel that Clientexec might be the next dominant player

Any additional features that you believe that the Clientexec team should implement?