Get Web Hosting UK - Windows or Linux SSD NVMe VPS from £3.99 a month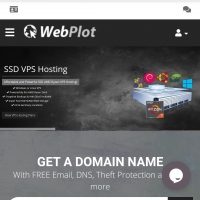 starservices
Member
edited November 2019
in Offers
Get Web Hosting we offer SSD VPS Hosting based in South-east London, UK. Our services are perfect for medium to big websites that uses a lot of database interaction, thanks to our super-fast SSD NVMe RAID storage & our high frequency CPUs. Plus, with Anti DDoS Protection and snapshot backups included so you can be assured that your services will always be online and you can restore your Windows or Linux VPS any time with the snapshots you have taken via our client area.
You also have a selection of Apps and Control panels you can install on your Windows or Linux SSD VPS from our client area, as well as reinstall, get details graphs, use VNC viewer, change Network settings and more.
VPS 1
1x3.7Ghz,
2048 MB RAM,
30 GB SSD NVMe disk space,
2000GB Traffic 1Gbps port 100Mbps guaranteed,
1 IPv4 & IPv6 address,
24x7 UK based Support.
£3.99 a month (With coupon: letbox)
Order SSD VPS Now
FEATURES
• Snapshot backups included.
• Reboot, Reinstall or configure VPS.
• Anti DDoS Protection included!
• Over 16 different Linux & Windows distributions to deploy.
• Super Fast SSD RAID Storage, on London, UK nodes.
• Guaranteed Hardware Resources.
• Upload your own ISOs.
• Instant Deployment
• UK Support.
If you got any questions about any of our services, please do not hesitate to contact us.