AllHost ⚡ cPanel | LiteSpeed | DDoS Protected ⚡ 1 Year hosting for just £3.60 / $5.00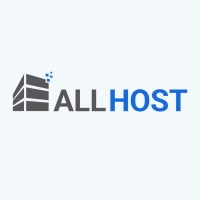 AllHost_Rep
Member, Patron Provider
Who are AllHost?
AllHost.co.uk are a web hosting provider aimed at providing high performance web hosting services with a user-friendly price point. We have been publicly providing hosting since March 2020 under the AllHost name however have been providing private hosting for over 6 years. We are a registered company in the UK - 13477478 and registered with the ICO.
We're from a technical background, not sales, so there's no pushy marketing with false promises, just simple web-hosting plans on a reliable platform.
With a combined 14 years in-depth experience of providing technical support and hosting environments to large web-hosting providers, we believe this makes us perfect for ensuring things run fast and remain reliable whilst offering a professional service.
What's Standard?
Hosted on enterprise grade hardware in a Midlands (UK) Datacentre served by a multi-homed network with over 1Tbps of outbound capacity.
Full RAID 10 SSDs.
cPanel Control Panel.
⚡ JetBackup - Daily Backups with 21 Restore Points.
⚡ CloudLinux OS
⚡ LiteSpeed Web Server + LSCache
⚡ MailChannels
Imunify360
Free SSL Provided by AutoSSL + Sectigo
Free Migrations
PHP Versions 5.4 to 8.0
Enterprise DDoS Protection
What's the deal?
Due to the resources of a server being disproportionately used (i.e. very low CPU/RAM but high usage of storage space), AllHost are able to offer up the following package offer for a very low cost.
CP Mini (Shared Hosting)
Up to 1 Domain
5GB SSD Storage
1 vCPU + 1GB RAM + 25 EP
£3.60 PER YEAR (approx $5.00)
Plan will renew at £7.20 PER YEAR / $10 after the first year.
Order link here
Notes:
-If an upgrade to your plan or storage quota would be required in future this would result in your account being migrated to a different cPanel server rather than a simple quota increase. Whilst disruption for migrations can be kept incredibly low, it would not be a simple case of just increasing quota.
-Due to the low retail price and to prevent abuse; the maximum hourly outbound emails is restricted to 20 on the CP Mini plan.
If you require higher email volume then you can opt out of MailChannels if desired.
-Limited availability.
You can find our normal plans listed here
Email: [email protected]
We also offer Reseller Hosting and Managed cPanel VPS.