AllHost ⚡ cPanel Web Hosting SPECIAL | (6 Months £6) or (12 Months £10) | LiteSpeed | MailChannels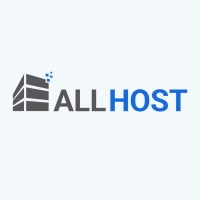 AllHost_Ben
Member, Host Rep
Who are AllHost?
AllHost.co.uk are a web hosting provider aimed at providing high performance web hosting services with a user-friendly price point. We have been publicly providing hosting for just over 1 year under the AllHost name however have been providing private hosting for over 6 years now. We are a registered company in the UK - 13477478.
We're from a technical background, not sales, so there's no pushy marketing with false promises, just simple web-hosting plans on a reliable platform.
With a combined 14 years in-depth experience of providing technical support and hosting environments to large web-hosting providers, we believe this makes us perfect for ensuring things run fast and remain reliable whilst offering a professional service.
What's Standard?
Hosted on enterprise grade hardware in a Midlands (UK) Datacentre served by a multi-homed network with over 1Tbps of outbound capacity.
Full RAID 10 SSDs.
cPanel Control Panel.
⚡ JetBackup - Daily Backups with 21 Restore Points.
⚡ CloudLinux OS
⚡ LiteSpeed Web Server + LSCache
⚡ MailChannels
Imunify360
Free SSL Provided by AutoSSL + Sectigo
Free Migrations
PHP Versions 5.4 to 8.0
Enterprise DDoS Protection
Git, Terminal and SSH Access Included with all plans.
Unlimited MySQL Databases, Email Accounts, FTP Accounts, Sub-Domains as per T&Cs.
99.99% Uptime Guarantee
30 Day Money Back Guarantee
Same-Day Helpdesk/Ticket Support with 24/7 Critical Support Available.
Will my renewal price go up?
Never. No matter what cost increases we may suffer in future (cPanel), we aren't running bottom of the barrel hosting here and aren't going to ever increase prices for existing customers or services. The only time your renewal price will go up is if you order extras or change to a larger plan.
What's the deal?
We are offering a LET exclusive starter plan named "CP Mini".
CP Mini (Shared Hosting)
Up to 1 Domain
2GB SSD Storage
0.75 vCPU + 750MB RAM + 25 EP
£6 per 6 months or £10 per 12 months.
(aka $8.30 or $13.84)
Order link here
Normal plans below (with current other offer of 30% discount applied - coupon: LET30)
CP Lite (Shared Hosting)
Up to 1 Domain
10GB SSD Storage
1 vCPU + 1GB RAM + 20 EP
£2.06/month or £20.60/year
(aka $2.85 or $28.50)
CP Basic (Shared Hosting)
Up to 3 Domains
25GB SSD Storage
2GB vCPU + 2GB RAM + 40 EP
£3.46/month or £34.65/year
(aka $4.79 or $47.90)
CP Plus (Shared Hosting)
Up to 5 Domains
50GB SSD Storage
3 vCPU + 3GB RAM + 60 EP
£6.26/month or £62.60/year
(aka $8.66 or $86.60)
-Optional Extras-
More frequent backups (backup as frequent as every 2 hours)
Dedicated IP Address
You can find the plans listed above here
Email: [email protected]
We also offer Reseller Hosting and Managed cPanel VPS.
Attach Poll