🇺🇸 4th Of July Offer - KVM VPS at $24/year in Dallas, Texas & Buffalo, NYC, USA - HostNamaste 🇺🇸

hostnamaste
Member, Patron Provider
🇺🇸 4th Of July Offer - KVM VPS at $24/year in Dallas, Texas and Buffalo, New York, USA - HostNamaste: A Reliable Indian Hosting Company You Can Trust. 🇺🇸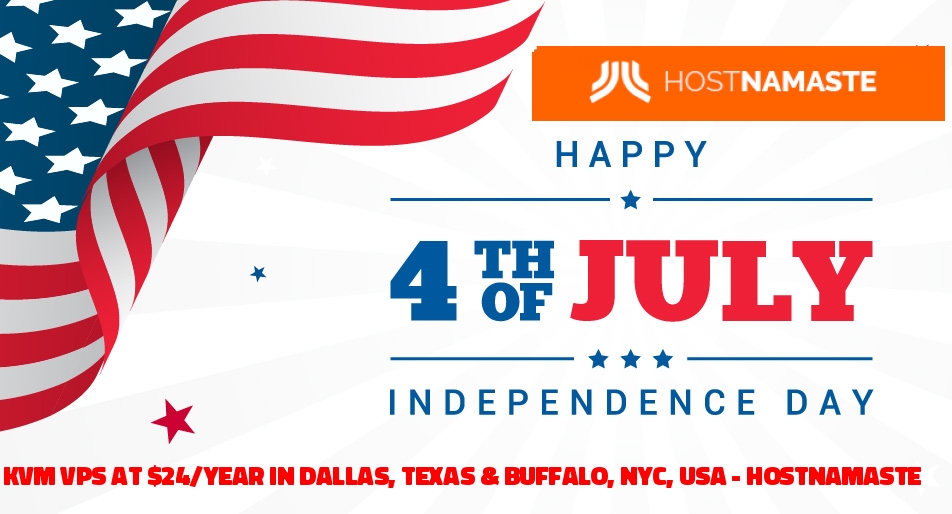 This independence day brings forth a new hope to make our tomorrows most beautiful and cherished. Wishing everyone a thrilled 4th of July. Happy Birthday, America. Love from India.
We are a registered business in the state of Rajkot, Gujarat, India and currently accept PayPal, Credit/Debit, Alipay, WebMoney, Payoneer, Wallets and other Payment Methods. If you are interested check out our TOS/Legal Docs and our AUP.
"HostNamaste is a company that was started in March 2016 and has continued to offer hosting ever since. We are focused primarily in the LowEnd market, but it is our philosophy to provide quality services while within the LowEnd market's price range. While this is certainly the goal of many LowEnd hosting companies, we have been quietly providing our services for nearly 5+ years with no complaints or issues whatsoever. We are particularly proud to offer many features that cannot often be offered by many LowEnd companies, including 24/7/365 Support, a 07-day money back guarantee, RAID-10 disks and dual processor nodes."
🇺🇸 KVM-1024 VPS only at $24/year in Dallas, Texas and Buffalo, New York, USA 🇺🇸
A Few Key Features of Our VPS
Network, Looking Glass & Data Centers Information
Contact Us
Please let us know if you have any questions/comments and enjoy the offers!