UK SSD VPS Hosting | Windows | Snapshots Backups | Anti DDoS all included from only £2.99 per month!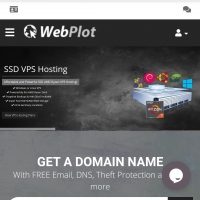 starservices
Member
Own Web offer fast, reliable SSD VPS Hosting using only KVM virtualization technology with super-fast NVMe SSD RAID storage, Intel Xeon processors and on one of the worlds largest networks based in south-east London. All our SSD VPS Hosting services come with Anti DDoS Protection, IPv6, IPv4 , Snapshot Backups and Windows licenses included, as well as a large category of operating systems and control panels to choose from.
You can now also customize your VPS via the order process automatically upgrading its hardware, IP addresses and installing a control panel of your choosing. We can now also supply DirectAdmin licenses from only £4.00 a month with all VPS servers.
VPS 1
1x3.7Ghz Xeon W-2145, (in UK)
512 MB ECC RAM,
8 GB SSD NVMe disk space,
750 GB Traffic 1Gbps port 100Mbps guaranteed,
1 IPv4 & IPv6 address,
24x7 UK based Support.
-= £2.99 a month =- (4.12USD)
Click here for Intel Xeon UK VPS Hosting
VPS 2
1x3.7Ghz Xeon W-2145, (in UK)
1024 MB ECC RAM,
16 GB SSD NVMe disk space,
1250 GB Traffic 1Gbps port 100Mbps guaranteed,
1 IPv4 & IPv6 address,
24x7 UK based Support.
-= £4.99 a month =- (6.88USD)
Click here for Intel Xeon UK VPS Hosting
FEATURES
• Snapshot backups included.
• Windows Included.
• London Location.
• Reboot, Reinstall or configure VPS.
• Low cost DirectAdmin licenses.
• Anti DDoS Protection included!
• Over 16 different Linux & Windows distributions to deploy.
• Super Fast SSD RAID Storage.
• Guaranteed Hardware Resources.
• Upload your own ISOs.
• Instant Deployment
• UK Support.
Payment Methods
• Credit or Debit Card.
• Bank Transfer
Why choose Own Web?
Our average uptime is 99.99% and have nodes that have achieved over 320 days of uptime and counting with a service level agreement of 99.95%. Our SLA also includes two hours response for support tickets but our average response time is 23 minutes. We are also generous with our shared hosting Cloudlinux limits. with optimized configuration on blazing fast servers. For people who use our VPS services they a get free Windows license, free IPv6 addresses, free snapshot backups and low cost discounts across arrange of other licenses and services.
We are also happy to support our customers via live chat, however this is only if we have the time available and people that are using our management services get priority.
Have you got a test IP / Looking glass?
UK Looking Glass: http://51.89.201.152
What Operating Systems are available?
| CentOS 6.9 | CentOS 7.5 | CentOS7.6 | CentOS 7.7 | CentOS 8.1 | Ubuntu 17.10 | Ubuntu 18.04 | Ubuntu 18.10 | Ubuntu 19.04 | Debian 8.0 | Debian 8.7 | Debian 9.4 | Debian 10 | Windows Server 2008 Standard | Windows Server 2016 Standard | Windows Server 2019 Standard | Windows 10 Pro | Fedora 19 | Fedora 20 | Fedora 21 | Fedora 27 | Suse 12.3 | Suse 13.1 | Suse 15.1 |Scientific 7.1 | Scientific 7.4
We also have a few turnkey ISOs available, and you can upload your own ISO image from our client area.
What is your refund policy?
We have a 7 day, no questions asked full refund policy. This is excluding our Lowend VPS range, which you can find more information about in our terms of service.
Can I upgrade my hardware resources?
Yes, you can upgrade your CPU, RAM and hard drive limits as well as order additional IPv6 addresses for free or IPv4 addresses for £1 a month, click here to see prices.
Other Resources.
Service Level Agreement
Terms Of Service
Own Web on Facebook