Free Theme
I wrote this on HostBalls yesterday:
---
Intro
Hey Hostball(ers),
I'm not sure if this should be in the "Free Shit" thread, but I've created another theme (as I do every year!) for y'all to use:
http://projects-secondary.dawgy.pw/simpleHosting/
The icons are fully custom (ie. I designed them) and there are a few extras included should you require them. The map is animated as well and is fully responsive.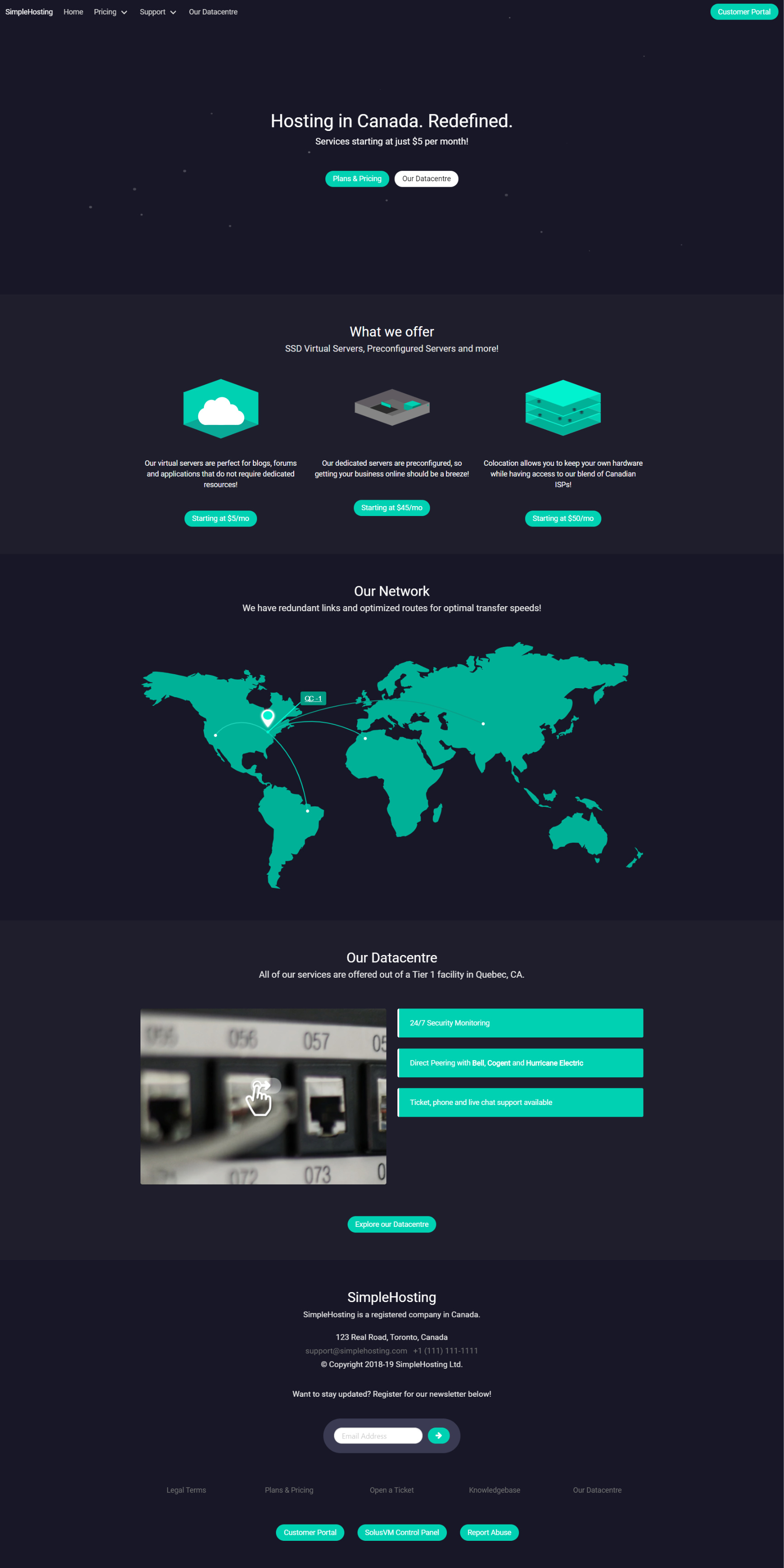 Installation of the theme
The first thing you'll need to do is download the theme. Once you've done so, extract it in your web directory.
Now you'll need to edit subscribe.php for the newsletter subscription to work. It is only compatible with MailChimp. Modify the following variables:
$api_key = '';
$list_id = '';
$datacentre = '';

Fill them with your API credentials for MailChimp.
We will now need to configure lg.html to work. In order to do so, head into /assets/site.min.js. You will need https://github.com/telephone/LookingGlass installed on your testing server.
Edit the following line:
var lgUrl = "http://google.com/ajax.php"; // don't include the final '/'

Modify http://google.com/ to your LookingGlass installation.
Now that all the built-in options are configured, you can proceed to modify the text on the page. Do whatever you want -- redistributing and using this theme for commercial purposes is fine. The only restriction is re-selling the theme (who would re-sell a free theme anyway?).
Extras
If you like my work and want to buy me a coffee, feel free to do so -- designing icons and creating these templates take time to do.
PayPal address is: [email protected]



Sincerely,
dawgy / Aaron
---
Hope y'all enjoy!